Sweet love
It's impossible not to fall in love. Passion all around, like the bed in the centre of the room, which you can turn around as you like! There is room for two in the cement and crystal shower, as well as in the whirlpool tub with chromotherapy. See how many materials intertwine to make your experience sweeter than ever! Wood on the floor and for the bed, but also steel, leather and iron. Bold combinations, like love. ADULTS ONLY!
VIEW MORE
BOOK NOW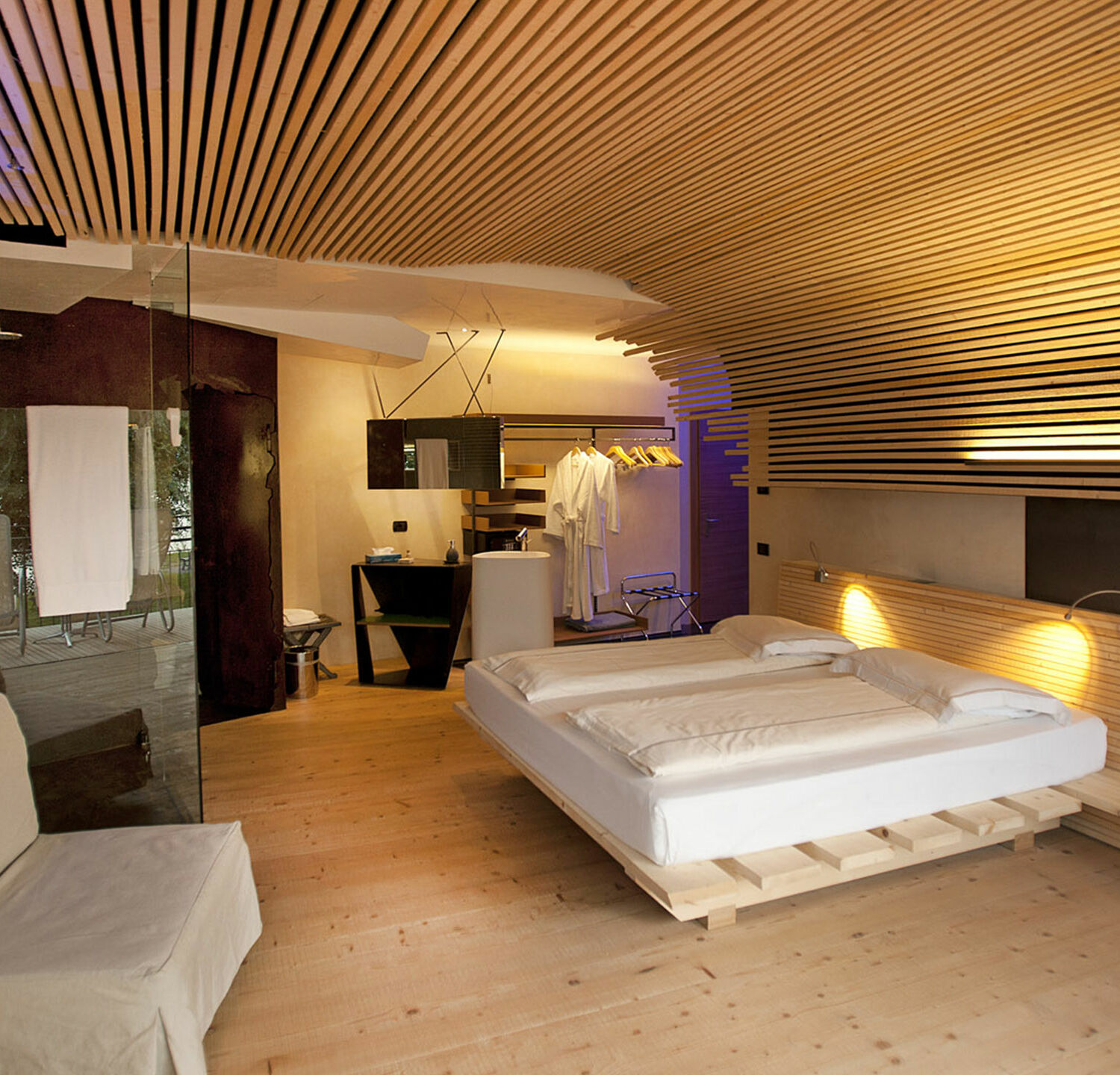 JS Bellevue
An unconventional love nest. Larch wood underfoot, fir all around. With its authentic natural wood decor, this suite puts everything on display - including the shower, enclosed only by three evanescent crystal walls. And the bathroom, with its elements scattered here and there, with randomness but also attention to detail. And then, like a single fixed point in the midst of something ever-changing, a huge window with a magnificent view of the lake and the surrounding nature. Just inhale, and let yourself go.
VIEW MORE
BOOK NOW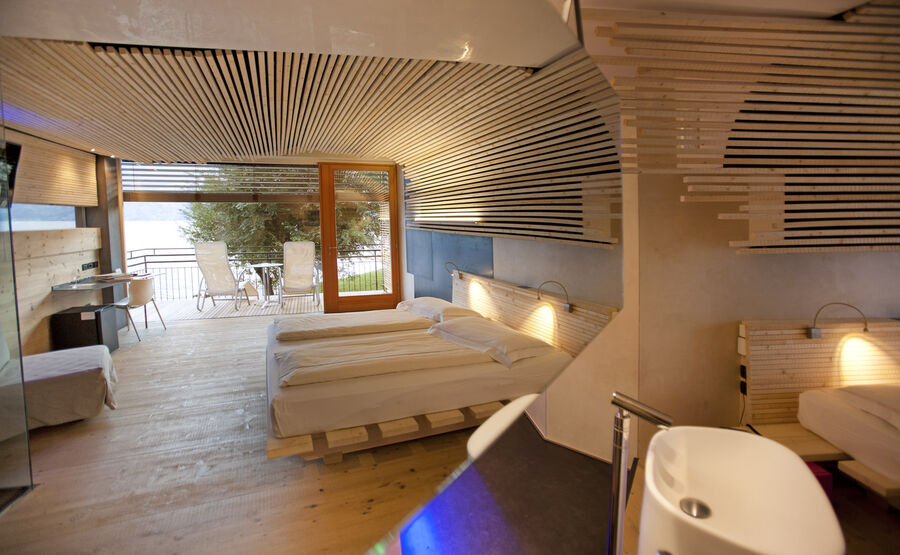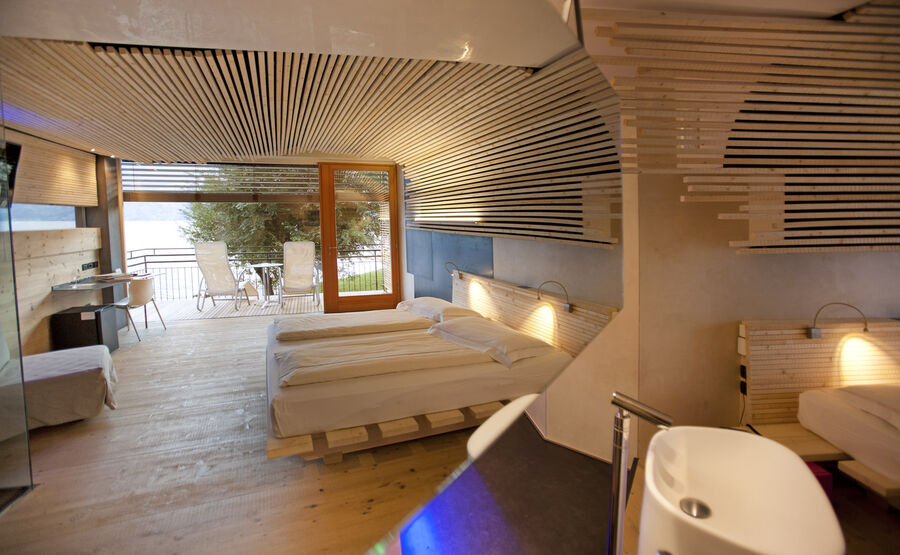 Js Primaluna
All the space of the Ambienthotel Primaluna for you! Move freely inside - there are two spaces in a single room, and an unexpected bathroom. Natural wood combined with bold colours. Raw materials, such as iron and the stone of the sink, positioned in a casual manner. The comfort of a junior suite, with an added lake view!
VIEW MORE
BOOK NOW
Family suite
Live with your family in a large room where everyone can have their own space. Enjoy family life, with two communicating rooms and 45 sqm, all to be explored. Fill up with natural light with the huge window overlooking the lake, and get ready to experience all the outdoor activities available with your little ones! Energy and liveliness call for an airy, light-filled environment. Inside, you'll find bold shades of harmonious colours, daring combinations and materials with clean and unusual lines. There is plenty of space to relax, but also to carry on playing without time limits!
VIEW MORE
BOOK NOW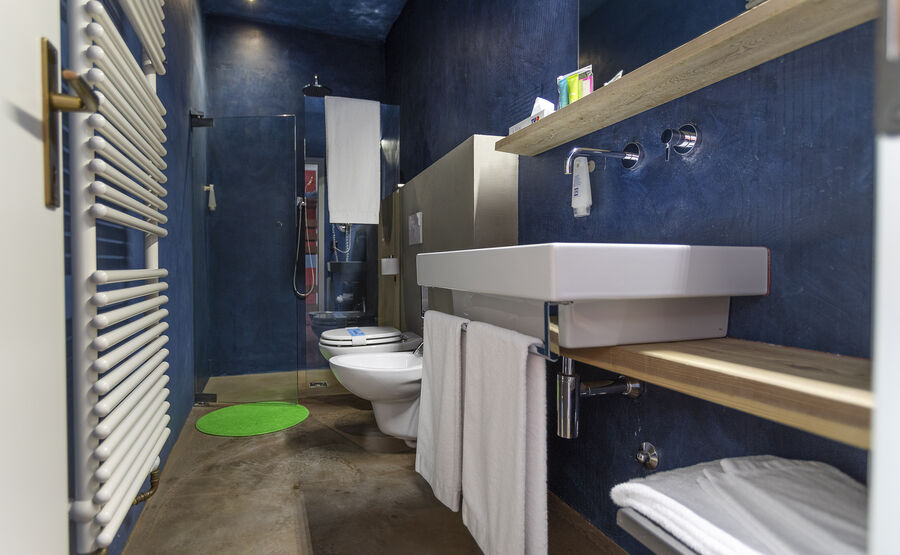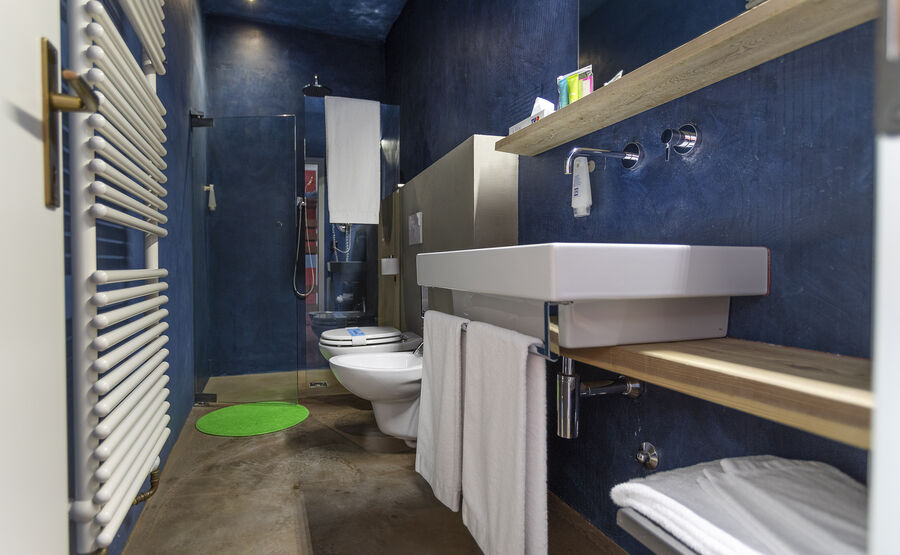 Suite Garden
Where there is family there is energy! In the Garden Suite, energy means colourful lights, bold combinations and unusual furnishing elements. Everyone is free to discover every corner of the room, always feeling good, whether you're playing on the sofa or dozing on the bed. Waking up in the morning is a pleasure when you are surrounded by nature, and when you know the lake is waiting for you! No need to take the car, it's right there, beyond the garden. Just a moment and it's already time to go wild!
VIEW MORE
BOOK NOW
JS Garden
Light up your day, starting from the morning! The bathroom is neon green, to prepare you for electrifying moments. Experience nature from within, with the natural parquet wood or the bright colourful lights. Your Junior Suite comes with plenty of space, in a practical position for sports enthusiasts, and with a strategic position if you have children: it is located on the ground floor, with direct access to the beach!
VIEW MORE
BOOK NOW